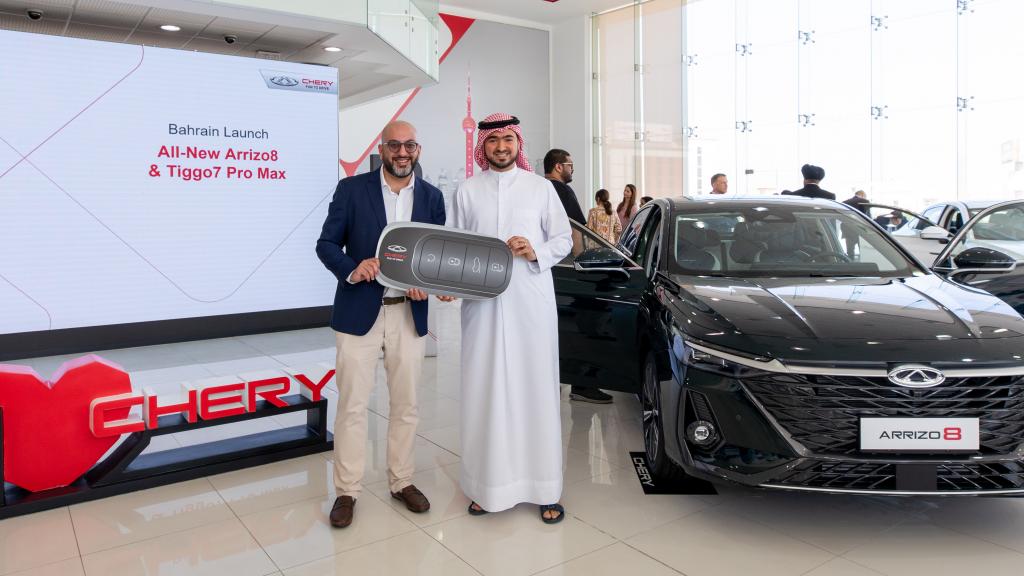 Motorcity, the exclusive distributor of Chery vehicles in Bahrain, announced the unveiling of the 2024 Chery Arrizo8 and Tiggo7 Pro Max in the Kingdom. The launch was announced during a ceremony held at Motorcity's Showroom in Sanad. In attendance of official representatives from Motorcity.
A flagship product of Chery, the Arrizo8 combines intelligent technology and commercial style. Adopting V-bending technology for the first time, the all-new Arrizo8 boasts a host of technological feats that enhance convenience for daily users. It is the first Chery model to be equipped with a 50W wireless fast charging for mobile phones, solving the problem of low power and long wireless charging times. It also features a unique phone reminder function, which alerts you if you forget your mobile phone in the car.
Meanwhile, the Tiggo7 Pro Max offers exceptional performance and a distinct driving experience. Under the bonnet, it is equipped with the ACTECO 1.6TGDI engine, one of China's top 10 engines. The modern interior is designed to enhance the driving experience. The cockpit features a 24.6-inch high-tech dual screen with a 1920x720 display.
Ebrahim K. Kanoo Chief Executive Officer, Mike Brightmore said: "For almost two decades, Motorcity and Chery have been providing customers with the highest quality experience. We share a commitment to innovation and quality. With the introduction of the Arrizo8 and the Tiggo7 Pro Max, we are proud to continue bringing Chery's innovative and high-quality vehicles to our customers in Bahrain."
In terms of security, the Arrizo8 boasts an advanced driving assistant system with nearly 20 powerful functions, such as forward collision warning (FCW), lane departure prevention (LDP), and integrated cruise assist (ICA) system. It can automatically control the speed according to the magnitude of the curve in the cruise state for better ride and driving safety at high speed. The new model also features a large panoramic sunroof, comfortable leather seats, and stepless atmosphere lights, enhancing the sense of safety and comfort while driving.
Both the Arrizo8 and the Tiggo7 Pro Max come equipped with the smart voice control feature, allowing drivers to effortlessly manage various functions on the road.
With global sales exceeding 12 million units, Chery caters to a worldwide clientele with 6 global R&D centers. The Arrizo model lineup is trusted by over 900,000 people worldwide.