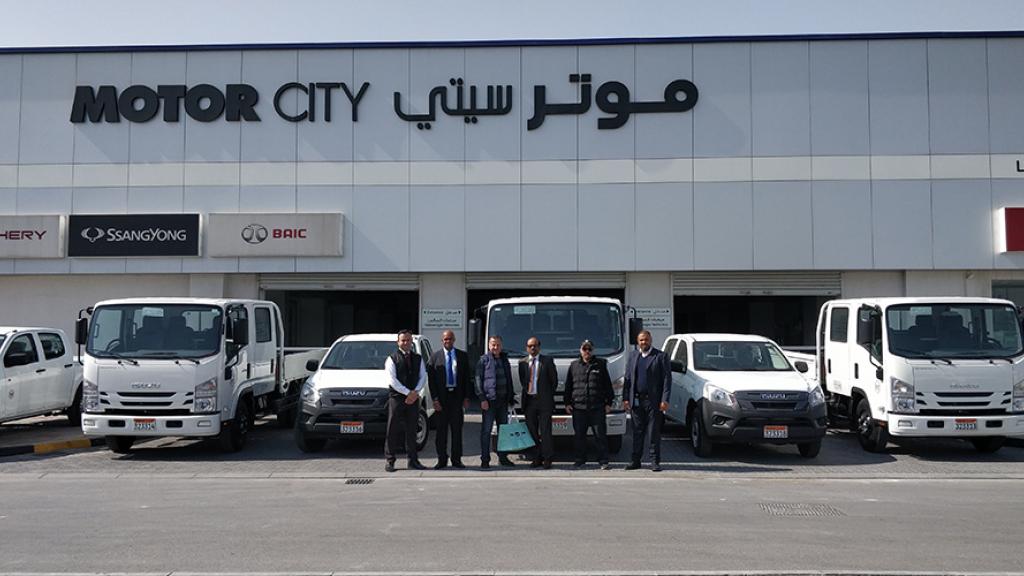 Motorcity, the exclusive distributor of Isuzu vehicles in Bahrain has delivered a fleet of Isuzu trucks to the Mohammed Al-Ojaimi Group, a leading Saudi-based company serving different industries within Bahrain and Saudi Arabia.  
The group is currently executing the second phase of the Electricity and Water Authority's (EWA) transmission development project, and the Isuzu D-Max pickups and N-Series trucks are perfectly suited to increase productivity and keep operational expenses low.
General Manager of Motorcity Commercial, Mr. Arun Kumaar highlighted the demand for reliable vehicles that support the growth of businesses, stating, "Isuzu trucks are built to provide sustainable and efficient transportation solutions. The trucks come with high cargo capacity, advanced safety features and turbo inter-cooled diesel engines, which effectively reduce their fuel consumption. They are tried and trusted as dependable and affordable commercial vehicles".   
Movement & Maintenance Manager at Mohammed Al-Ojaimi Group, Mr. Hussam M. Dalal believes that  upgrading the fleet with Isuzu trucks is a significant step, stating, "We wanted to strengthen our presence in the Bahrain market, and adding four Isuzu D-Max pick-ups and three Isuzu NPR crew cabins to our existing fleet is part of a strategic plan. We are confident of their durability, ease of maintenance and low operational costs".
Mr. Arun Kumaar handed over the fleet to Mr. Hussam M. Dalal at the Motorcity showroom in Nuwaidrat. The full range of Isuzu vehicles are available at the Motorcity showroom. For more information, visit Motorcity.com.bh, or call the showroom on (+973) 17702111.